Today I'm giving an in-depth look into how I use my interactive science journal in the classroom. I'll show you exactly how I use it to teach the states of matter in kindergarten. You can see what kind of activities are included in the resource, and even pick up a freebie at the end of the post!
States of Matter
I like to start every science lesson with a read-aloud.  This helps me hit cross-curricular standards and increase the students' exposure to non-fiction texts. It also lets the students learn about the topic in a different voice, and helps visual learners grasp the concept more completely.
I've really tried to increase my number of high-quality science companion texts over the past couple of years. For this lesson, I really enjoyed Change It! by Adrienne Mason.  It has clear explanations and wonderful illustrations.   
I also enjoyed the Touch It! book about textures and classification, and the Move It! book about forces of motion by the same author.  Click the affiliate links below to purchase the books:
For more science literature recommendations, check out this comprehensive list of the best science books for kindergarten that I've created!
Vocabulary Cards
After we read the story I like to introduce the vocabulary cards for the lesson. I have a focus wall where I keep all my vocabulary words for the week in all subject areas. Students need to review the words 5-7 times before it actually becomes part of their vocabulary, so even though I don't teach science every day, I do review vocabulary words every day.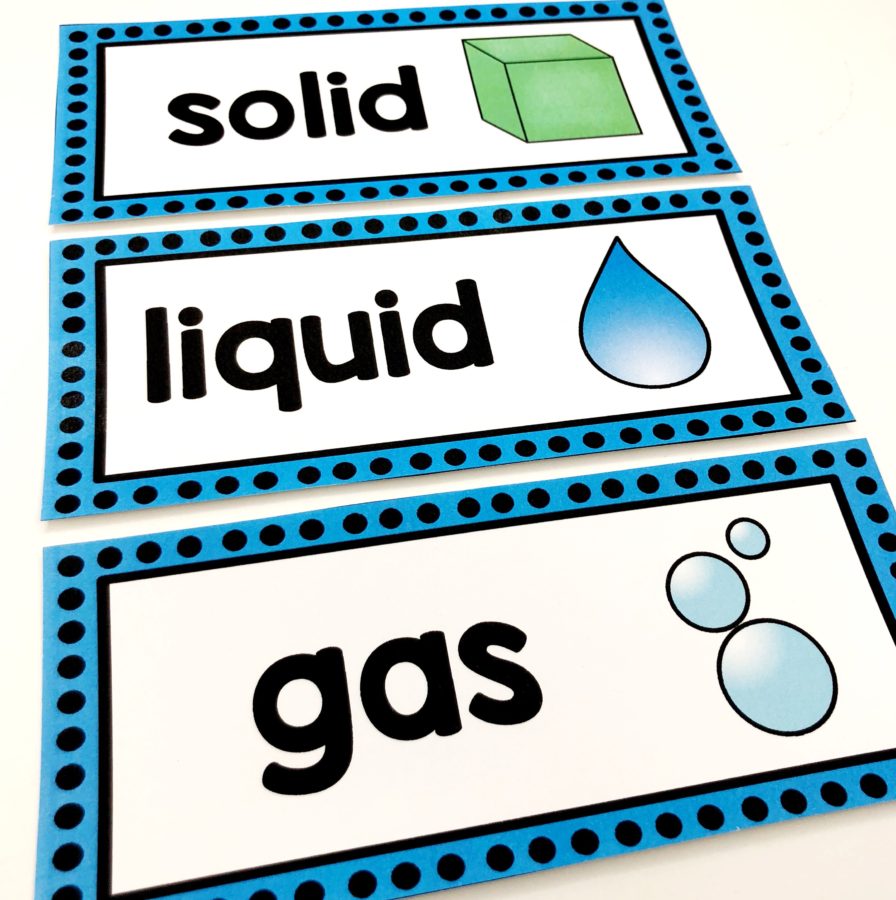 Sorting Cards
I love to do sorts with my students in all subject areas.  Classification is such a huge skill in kindergarten! Studies have shown that students need to take a newly learned concept, and put it into their existing prior knowledge to help them retain the information. I've included tons of class sorts in this resource to help practice that important skill.
Assessment
After our whole class learning and discussion, I like to assess the students on the information they have retained.  I give my students a science journal at the beginning of the year, and all of their assessments are kept in one place. 
When a student finishes their work, they bring it to me and I give them a "smelly star" from one of my Scentos markers.  I quickly mark their score in my grade book and take note of their fine motor skills by looking at their scissor lines and coloring skills.
If you would like a free copy of the States of Matter resource, just fill out the form below:
Kindergarten Science Journal
This resource covers SO MANY topics. Here's a look at the table of contents so that you can get an idea of the scope of topics:
If you are looking for a year's worth of kindergarten science resources, click on the link below. You can also learn more about this resource and how I teach science in my class HERE.