Sight word practice can be challenging, especially in kindergarten! To cement the recognition and spelling of sight words into students' memory they need lots of varied practice.
Sight words are usually taught during whole group instruction. After that, they are reinforced in small groups.
The goal with sight words is to have the students automatically recognize the words by themselves, and within a sentence.
When writing, students should sound out words to make a sentence, but sight words that have been taught should be spelled correctly.
Which Sight Words to Use?
The two most common sight word lists to use are either Fry or Dolch. Both of these lists were created based on the most frequently occurring words in the English language. On both top 100 lists, there are 130 words with 70 of them being on both lists.
Many language arts curriculums have their own list of sight words. Some schools/districts come up with their own combination of words as well.
In recent years there has been a push from the Science of Reading advocates to only teach true sight words that can't easily be decoded.
For instance, you wouldn't teach the word "am" because it can be sounded out. However, you would teach the word "the." Sounding out the word "the" won't lead you to the correct pronunciation.
Phonics should always be the main focus of reading instruction, but it's important to give students exposure to sight words.
Sight Word Practice
I decided to create a resource where students could independently practice their sight words to gain mastery. It needed to have enough scaffolding that they could do the work on their own. Additionally, it had to be challenging enough to help them retain the memory of the word's spelling and formation.
One of the biggest reasons I love Boom Cards is the audio capabilities. Pre-literate and beginning readers in kindergarten can access individualized support. I love creating resources on this platform for that reason!
Listen and Find
In this deck, students listen to a sight word and choose from six different options. This activity helps students look for phonetic clues as the word is read to them. Did I mention how much I love the fact that Boom Cards are self-checking?!?!
Listen and Type
I would use this deck with my more advanced students. Ones who have a strong grasp of the sight word list that the class is currently working on. To differentiate, you could give students a sight word list to use in conjunction with this deck. (Freebie coming up)
Mystery Picture and Color-by-Code
The next two decks ask students to listen to a sight word and find it to reveal a picture. These two activities are highly motivating for students as they see the picture begin to fill in!
Listen and Build and Sight Word Scramble
These decks really focus on the letters that are in each word. They help students understand the proper order letters should go in to give the word meaning.
Sight Word Sentences
The ability to identify words within a sentence is another important skill. This deck gives them the scaffolding they need to find the desired word inside of a sentence.
Differentiation
There are seven different activities for each set of 25 Fry words. This feature allows you to choose the deck that is best for each individual student.
These decks can be done during whole group instruction, guided reading, literacy centers, RTI, as assessment, or assigned for homework. Tons of options!
Some students might need a little more assistance. I created sight word bookmarks that you could hand out to each student for use during their center time or to take home.
You could print out these lists and keep them next to the computer or iPad. Students can use them if they needed a little extra support.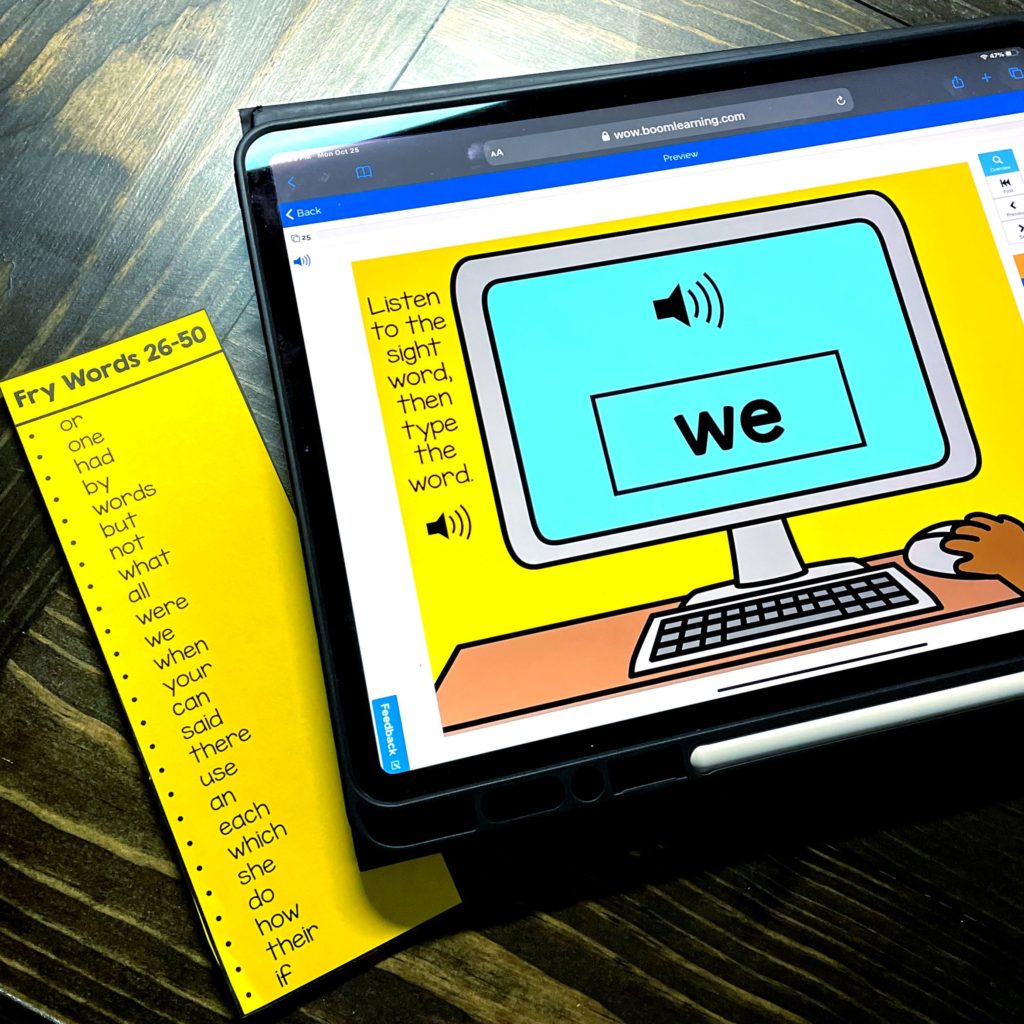 If you would like a copy of these lists just fill out the info. below:
Interested in these sight word resources? You can check them out in my TPT store:
(1-25) Sight Words Boom Card Bundle – Fry Words 1-25
(26-50) Sight Words Boom Card Bundle – Fry Words 26-50
(51-75) Sight Words Boom Card Bundle – Fry Words 51-75
(75-100) Sight Words Boom Card Bundle – Fry Words 75-100
Interested in getting all 100 of the first Fry Words together in a bundle? Check out the resource below! It's 50% off the price of each individual deck on the Boom Learning platform!
I hope these sight word resources are something that you will find useful for your classroom!