Do you want to create a more efficient and organized classroom for yourself and your students? If so, setting up a classroom job system is an excellent way to achieve that goal. Having proper job roles assigned to specific students can make all the difference in creating an effective classroom structure.
It will also help boost student engagement as they take ownership of their responsibilities within the classroom community. From tips and tricks about choosing the right jobs for your classroom to classroom organizational ideas – this blog post has it all! Read on to learn my top tips on how to successfully set up a classroom jobs system in your school.
The Advantages of Having a Classroom Jobs System
Creating a classroom jobs system can be beneficial in a multitude of ways. Not only does it teach students valuable life skills, such as responsibility and teamwork, but it also fosters a sense of community within the classroom.
By having defined roles and responsibilities, students are able to take ownership of their duties and feel a sense of pride in their contributions to the class.
Additionally, a jobs system can help improve classroom management by keeping the space organized and clean. Overall, implementing a classroom jobs system can have a positive impact on both academic and social aspects of a student's education.
Tips and Tricks for Setting Up a Successful Classroom Jobs System
Creating an efficient classroom jobs system is essential for any teacher who wants to maintain order and responsibility in their classroom. With a well-structured system, students can learn the value of teamwork, commitment, and hard work.
Here are some things to think about before you set up your classroom jobs:
What jobs make the most sense for your classroom? (I used to make a job for every single student in the classroom until I realized that was unnecessary.)
What time can you set aside in your schedule for students to do each job?
When will each job get done? (I had some morning jobs, afternoon, and lunch ones as well. They don't all have to be done at the same time.)
What will training look like at the beginning of the year? (Explicit training for a couple of weeks will lead to an amazing amount of independence as the school year goes on.)
Are there any jobs that you will add later on in the year when you feel like releasing more responsibility? (Maybe sharpening pencils?)
Introducing the Classroom Jobs System to Your Students
Are you tired of doing all the work in your classroom by yourself? Well, it's time to introduce the classroom jobs system to your students! Not only will this system teach your students the value of responsibility, but it will also teach them how to effectively work together as a team.
Each student will have the opportunity to take charge of a job, whether it's being the line leader or even the classroom librarian. By doing this, they'll feel a sense of ownership and pride in their duties. So, rather than feeling overwhelmed with the mountain of tasks to do every day, you'll have a group of excited students helping you every step of the way. Trust me, it's worth implementing this system and watching your students thrive.
Plan time into your first couple weeks of school to do some hand-holding. I model every job for the students and then in the first couple of weeks during the time they are completing their jobs I stand close by and monitor for any sticking points.
Students will need lots of reminders and guidance at the beginning of the year, but you will be amazed at how independent they become as the year goes on. Read about how I try and instill independence in my students during morning routines as well!
Reading books like "Our Class is A Family" can help students begin to see themselves as part of the larger community and start to take ownership of the space that we all share.
The Classroom Jobs That Worked Well in My Classroom
Every classroom is different, but here are some of the jobs that have worked well over the years in my classroom:
Calendar – lead the morning meeting time where we reviewed the calendar, how many days we had been in school, the daily schedule, etc.
Lunch Count – I worked at a very small school where it was easy for one of my students to run the sheet over to the cafeteria.
Line Leader
Lights – last person in line who made sure the door was closed and the lights were off when we left for any reason.
Centers – At the end of the day they tidied up the center area.
Mat Helper – We had rest time in my class and at the end of rest time, this person would stack up all the mats and put them in the correct spot in the classroom. While this person was working I was reading a book to the students as they slowly woke up and joined me on the rug.
Library – Tidied up the library at the end of the day.
Folders – In my class I had each student take home a small 3-ring binder every day. This binder had important school information, work that wasn't finished, notes to parents, etc. Every binder had the student's class number written on the side. When students came in in the morning they took out their binder and put it on a shelf and then hung up their backpacks on a hook. While calendar time was happening my folder person would go back and organize the binders and put them in numerical order for me. This helped me quickly check the folder for any parent's notes or fill the folders with flyers later on in the day.
Computers – Tidied up the computer area at the end of the day.
At the end of the day, the students who had jobs would go off to do them. Everyone without a job was in charge of picking up 5 scraps from the floor. They would meet me at the trash can and once they showed me their scraps and threw them away I would give them a cleaning wipe.
Students always love to use cleaning wipes! I would always praise the students who could get the dirtiest wipe. Extra points if both sides were dirty! : )
Having these jobs provided an opportunity to practice real-life skills such as time management, organization, and teamwork. With clearly defined duties and rotation schedules, my students were able to take ownership of their responsibilities and take pride in assisting their peers and teacher. These classroom jobs proved to be a win-win situation for everyone involved!
Classroom Jobs to Keep You Organized
This classroom jobs resource always worked well for my students. Every day I would move the clothespins one space at the end of the day so that all the jobs were ready for the next morning.
If you have a particularly responsible group you could even make this one of the student's jobs!
Keeping a classroom organized can be a daunting task, especially when you're managing a full classload of students. Thankfully, this resource helps make the process easier.
By assigning various tasks to students, you can keep your classroom clean and organized while also teaching your students valuable life skills. A well-designed classroom jobs chart can help keep everyone on track and ensure that your students take responsibility for their learning environment.
Whether you're a new teacher or a seasoned pro, incorporating a classroom jobs chart into your class routine can provide many benefits and help you keep things running smoothly. Learn more about this resource at the link below:
Additional Classroom Organization Materials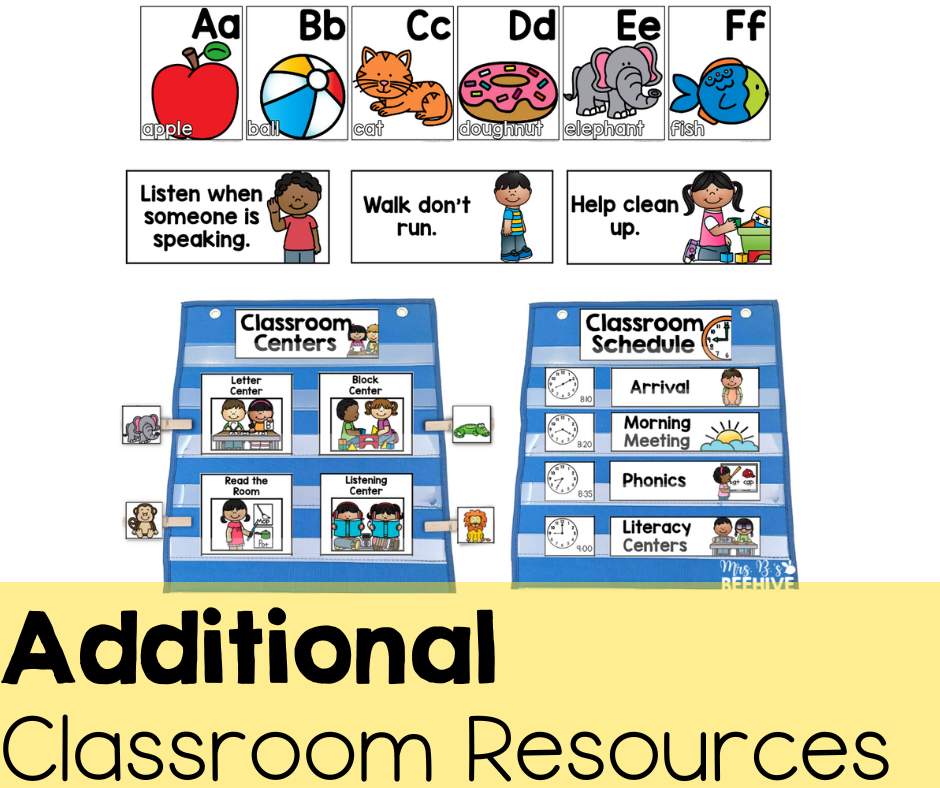 If you're looking for additional classroom decor and organizational materials I've got just the bundle for you! You can also read more about how I implement these resources in my classroom!
Overall, a classroom jobs system can be incredibly beneficial for teachers and students alike. A successful classroom jobs system provides structure and allows students to take responsibility.
Finally, it is important to reflect on which classroom jobs are working and which may need to be altered or dropped entirely. By purchasing and downloading my classroom jobs organizational posters, you will have all of the resources you need to set up an effective system right away! The posters are beautiful with engaging designs that will capture your students' attention. Take the stress out of organizing your classroom jobs system by downloading this resource today!