Are you stumped on classroom decor ideas and classroom organization ideas this year? Are you looking to do something different to freshen up your classroom? When it comes to classroom centers, classroom jobs, classroom schedules, visual instructions, classroom rules, and alphabet and math posters, I have some great ideas for you. Relax, read, and let the ideas flow!
Classroom Centers
One of my favorite classroom decor ideas is to display different things around the classroom that are helpful for my students to know. A great time-saver is to use the Classroom Centers Signs and Rotation Chart.
When it comes to classroom organization ideas, this one is amazing. Whether you do one center a day, or multiple rotations, this resource will work for you. Not only does it help your students stay organized and practice their independence, but it keeps you on track to easily remember the center rotations.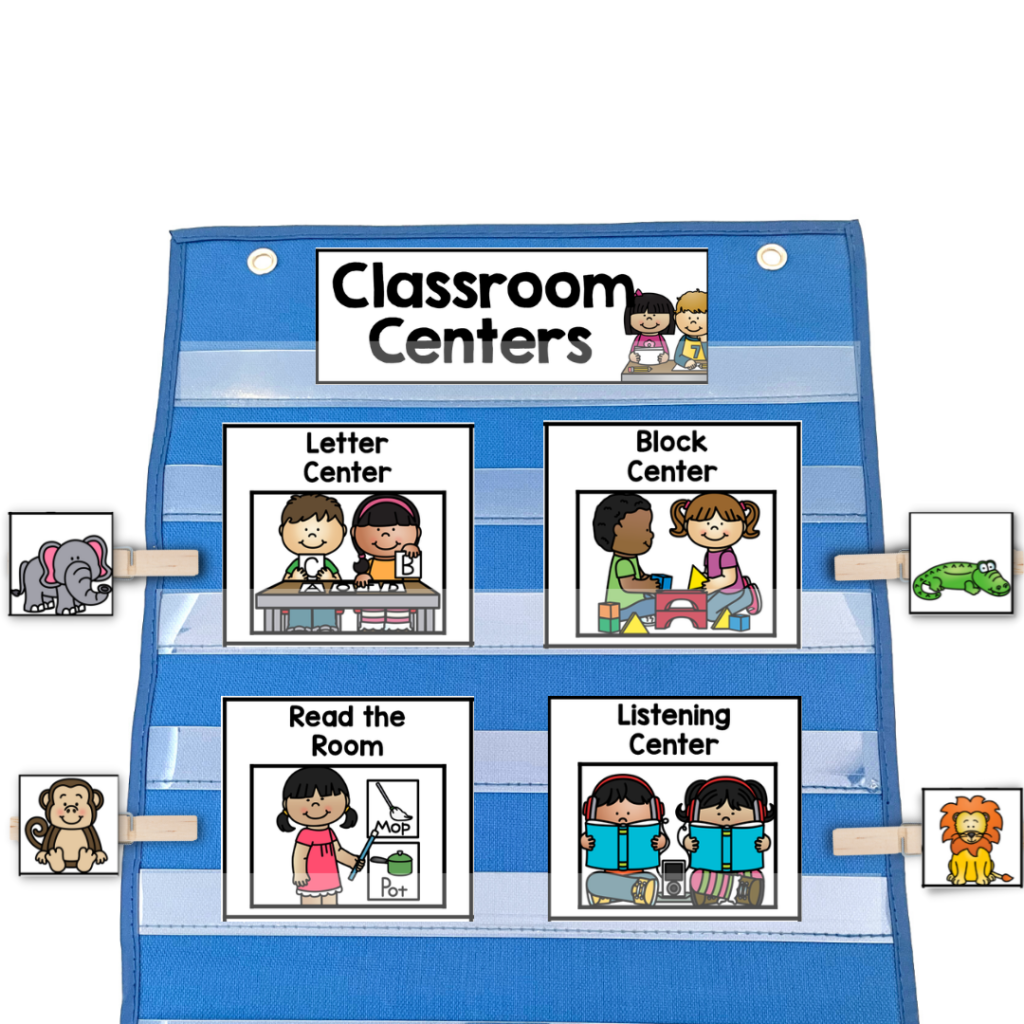 Classroom Jobs
One of the best classroom organization hacks is to have your students help keep the classroom organized. Give your students a sense of ownership in the classroom by assigning classroom jobs for everyone to help out.
Classroom Job Charts Signs will make your life easier. Included in this resource is a list of classroom jobs you might be looking for. Students will love the sense of accomplishment and inclusion they will get from working as a team to keep the classroom clean and organized.
Classroom Schedule
I once had a student who was extremely anxious at school. She would quiz me about the schedule no fewer than 5 times a day to prepare for whatever came next. As she got more comfortable in the classroom, she stopped doing this and could use the schedule independently.
Classroom schedules should be reviewed every day to help students know what to expect. The Classroom Daily Visual Schedule will help with classroom organization ideas and is great for classroom decor. This fun schedule will fit your daily routines and allows you to have both words and pictures so no matter the age of your students, everyone can see what the daily schedule will look like.
Visual Instructions
Clear visual instructions help minimize disruptions in the classroom. The options available for you included in the resource Visual Direction Picture Cards will help your classroom.
Your valuable instruction time will not be wasted repeating instructions. You can select which cards to use so that when you give multi-step projects to your students, your students will be prepared and understand the expectations.
Students can look on the board or pocket chart to see which steps they have completed and which are yet to come. This resource will help satisfy your need for fresh classroom decor ideas and help satisfy classroom organization routines.
We spend a lot of time on classroom rules. Coming up with the rules and ensuring students understand the rules is just the beginning.
Next, we must keep students accountable for the rules. The Classroom Rules and Coloring Pages is a fantastic resource to help you to choose rules for your classroom.
Further, you can display it on a whiteboard, wall, or a pocket chart for your students. Of course, easy accessibility and effectiveness is the goal of kindergarten classroom rules. To find out more ways to make your classroom rules effective and easy, check out my blog post here.
Alphabet and Math Posters
These are my favorite posters for the classroom. The Alphabet Poster Classroom Decor and Number, Color, 2D and 3D Shape Posters Classroom Decor are so helpful.
As far as classroom organization ideas go, these resources will give your students reminders of letters of the alphabet and early math facts and concepts. Along with displaying letters, numbers, and concepts, these printable posters have images to accompany the main ideas on the cards.
Classroom Decor and Organization
If you're looking at these classroom decor ideas for organization and thinking these seem great, I need all of them. Have I got a deal for you!
The Classroom Posters and Labels | Organizational Systems and Decor Bundle is exactly what you need. All of the great resources I've told you about today, plus even more that will aid in your classroom organization and decor quest, are included in this bundle.
As you're deciding which resources you need to incorporate into your classroom, I would also encourage you to check out my Classroom Organization blog archive to see what new information you can glean there. From improving transition times to setting classroom rules and designing fun and engaging bulletin boards, you will find all sorts of great classroom organization ideas.